Lanson Champagne "Le Black Label" Brut Champagne, France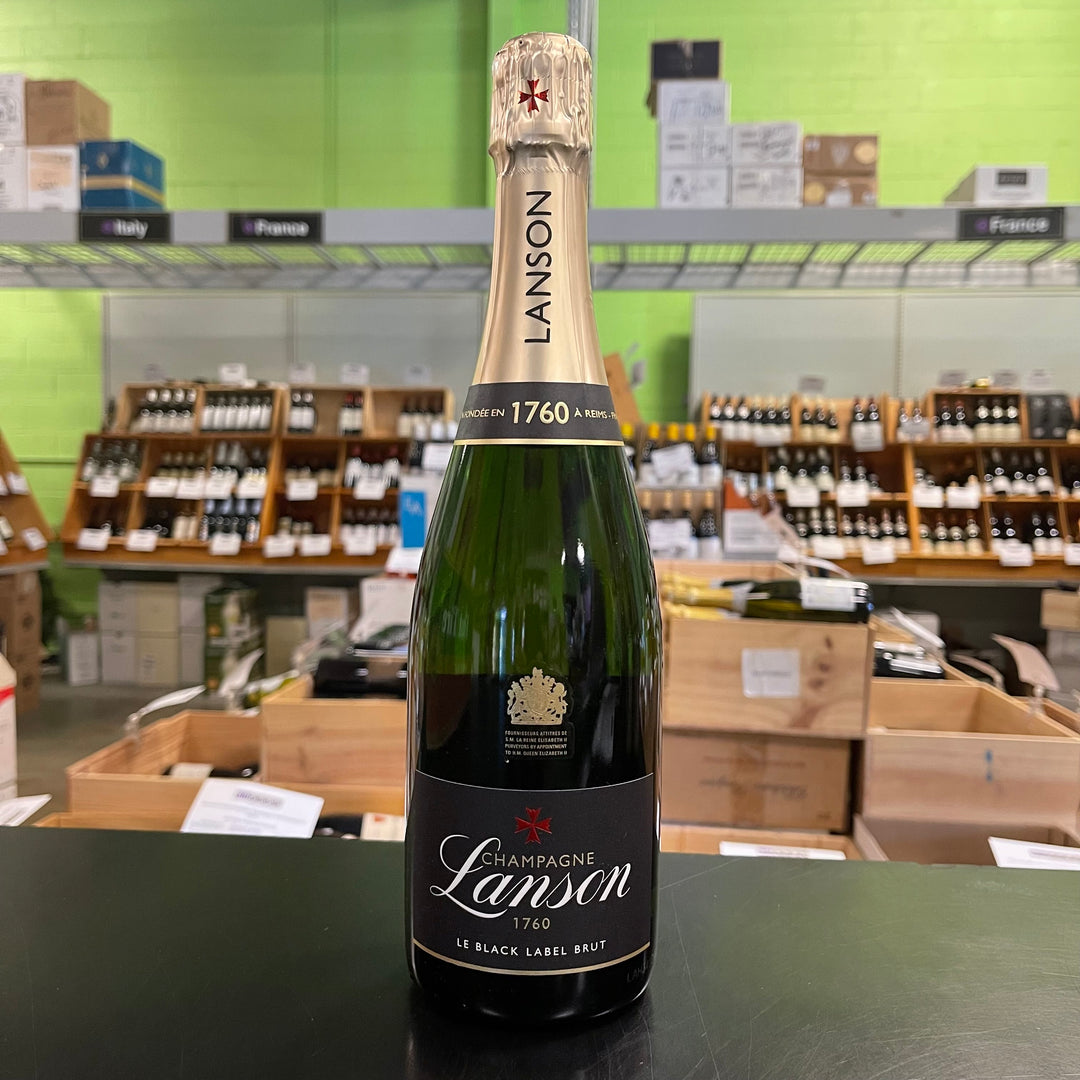 BIN ENDS BUY THE PAIR FEATURE:
$72.00 FOR 2/750 ML BTLS SAVE OVER 35% COMPARE@ $114.
ORDER 2+  BOTTLES; DISCOUNT TABULATES AUTOMATICALLY TO $36.00/BTL.
PRODUCT OVERVIEW/REVIEWS:
Founded in 1760, Maison Lanson is one of Champagne's oldest houses, making great Champagne for 260 years and counting. 
Lanson Champagnes enjoy a lengthy aging process, three times longer than the official requirements of the appellation; this allows the "Le Black Label" Brut to combine both maturity and vitality. Lanson matures its Champagnes for at least four years in its cellars to develop outstanding complexity.

A blend of 50% pinot noir, 35% chardonnay, and 15% pinot meunier, Lanson "Le Black Label" stays true to the origins of Champagne. The meticulous selection of grapes sourced from the Village Crus, including historical cornerstones such as Dizy, Verzenay, and Trépail, and the strong presence of reserve wines preserve the constancy of the style over the years.

Champagne Lanson uses 30% to 40% of reserve wines, some aged for over 20 years, for consistency of style and aromatic intensity. Its freshness and elegance will seduce both the sprightly enthusiast and the most seasoned connoisseurs.

The NV Lanson Champagne "Le Black Label "Brut presents light and clear in the glass with amber highlights and a smattering of fine bubbles. 

The aromatics are of fruity notes of Poire William, apples, and citrus fruits that compliment the aromas of freshly baked pastries. There are flavors of ripe orchard fruits, tangerines, lemons, and grapefruit that awaken the palate. Notes of brioche and dried fruit add a touch of maturity. Check out the press!
92 points, Wine Enthusiast Magazine:
"Lanson's famed nonvintage cuvée is back on form, giving a ripe style dominated by Pinot Noir. It has weight and already a fine balance between the fruits and touches of toast from four years on the lees. This bottling of this Champagne is very ready to drink." (12/1/22)

92 points, James Suckling:
"A fresh, balanced palate with green apples, pie crust and pears. Medium body, fine bubbles, and a crisp, dry finish. Nice center palate. Four years on the lees." (7/18/22)

92 points, Decanter:
"50% pinot noir, 35% chardonnay, and 15% pinot meunier from 100 villages in all, and including 30% reserves from 10 vintages back; a small proportion now being produced with malolactic. "Le Black Label" remains the confident barometer of Lanson, and Hervé Dantan's blend is a class act, a resounding statement of his talent in preserving the style and integrity of the house while meticulously polishing the edges. It's a very important cuvée in the grand scheme of Champagne: one of the best and most consistent of the bargain set." (5/31/20)

91 points, Wine Spectator:
"Racy acidity is tightly-meshed to flavors of ripe red and black currant, preserved lemon, chopped almond, and honeycomb in this sleek Champagne, with a fine, chalky bead. Pinot noir, chardonnay, and pinot meunier." (11/15/21)
PRODUCT DETAILS:
Producer Name:​ Lanson​
Old/New World:​ Old World​
Country of Origin:​ France​
Region:​ Champagne​
Appellation:​ AOC​
Grape Varietals:​ 50% Pinot Noir, 35% Chardonnay and 15 % Pinot Meunier,
Vintage:​ NV ​
Product Type:​ Wine​
Wine Style:​ ​Sparkling Wine
Viticultural Features:​ sourced from 100 Cru Villages, 50% of which are Premier & Grand Cru.​​
Winemaking Techniques:​ Lanson matures its Champagnes for at least 4 years in its cellars to develop outstanding complexity.​
Winemaker:​ Hervé Dantan​
ABV:​12.5%​
Pack/Size:​12/750​
Container Type:​ Classic Champagne ​
Closure Style:​ Cork and cage​
*Autolysis is a chemical reaction between the wine and the lees by which enzymes break down the dead yeast cells, producing amino acids and releasing proteins and carbohydrates into the wine. It imparts characteristics in a wine such as richness and creaminess as well as aromas of bread dough, toast or brioche. It is a key element of the traditional method of making sparkling wine, such as Champagne. (Wine Spectator)

ORDER TWO BOTTLES; DISCOUNT TABULATES AUTOMATICALLY TO $36.00/BTL.
If you live within Massachusetts but reside outside our local delivery area, please contact Bin Ends at 781-353-4510 to arrange for FedEX delivery of any wines featured online.
Due to Massachusetts state liquor laws Bin Ends is not permitted to ship beer or spirits via FedEX nor are we allowed to ship any products out of state.

Your transaction and billing will be handled by our staff to ensure accurate delivery.