Mont Gravet Grenache, Syrah, Mourvèdre Pays d'Oc, France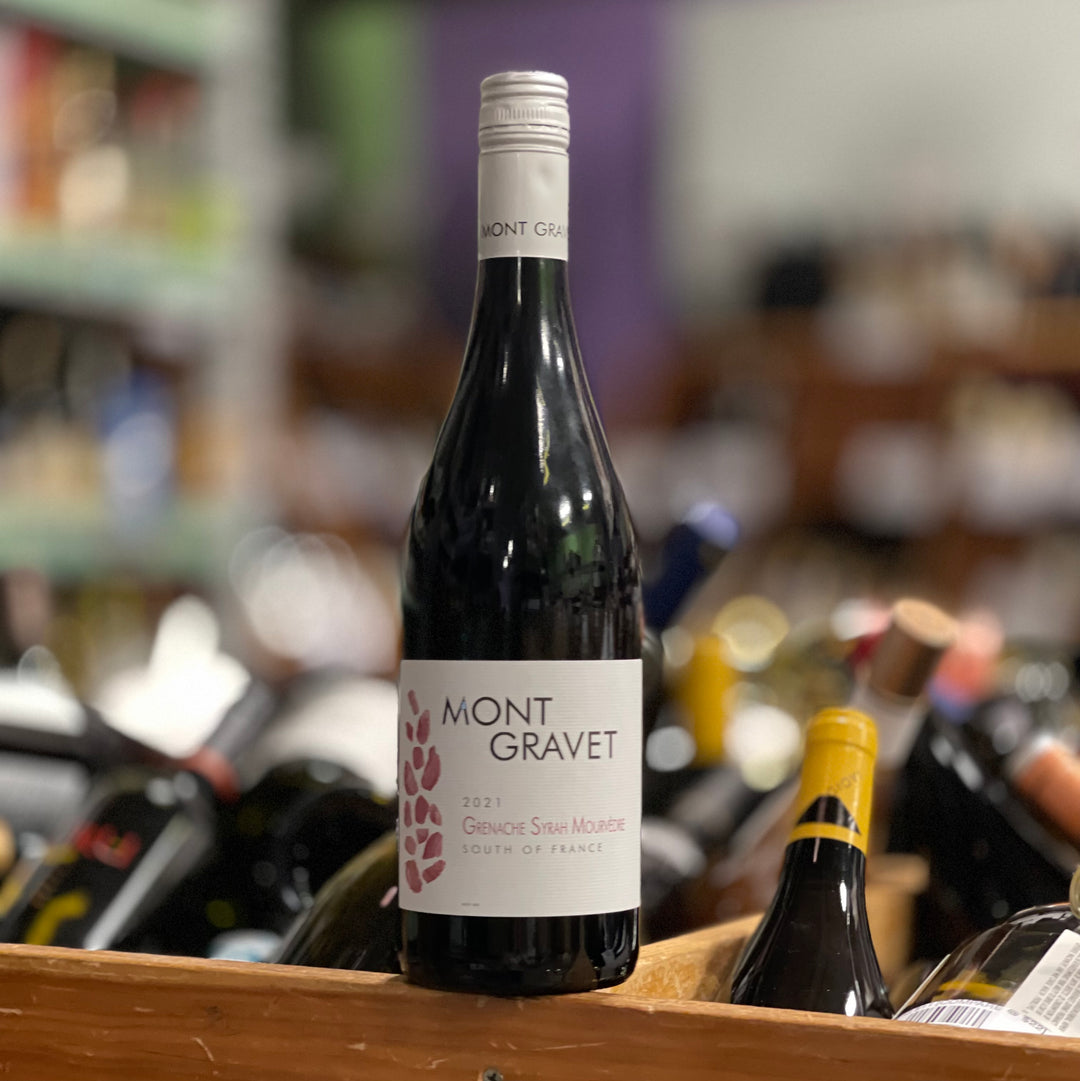 BIN ENDS BUY THE CASE FEATURE:
$79.20 FOR 12/750 ML BTLS SAVE 45% COMPARE @ $144.
ORDER 12 BOTTLES; DISCOUNT TABULATES AUTOMATICALLY TO $6.60/BTL.
PRODUCT OVERVIEW:
Mont Gravet is a tribute to the southern France terroir. Grown on south-exposed gentle slopes called "Mont," the grapes benefit from the warm sun, while the mists from the Atlantic Ocean to the west and the Mediterranean Sea to the east bring cooler winds. The vines are grown on clay soils and rolled pebbles called "Gravet," forcing the roots to go deep into the ground to find water, thus enhancing the wine's elegance. Mont Gravet is a brand of tradition and authenticity that reflects the true potential of wines from the South of France and South West France. (winery notes)

Today's feature is a blend of 34% grenache, 33% syrah, and 33% mourvèdre sourced from vineyards outside of Areliers in Languedoc. The syrah is aged for 5 months in French oak, while the grenache and mourvèdre are aged on the lees in concrete tanks. Medium-to-full-bodied, this wine is ultra-smooth, with aromas and flavors of ripe red and black fruits. The palate is layered with hints of wet stone and woodsmoke; silky tannins and the merest hint of peppery spice bring it to a long finish.
PRODUCT DETAILS:
Producer Name: Mont Gravet
Old/New World: Old World
Country of Origin: France
Region: Languedoc-Roussillon
Sub-Region: Languedoc
Appellation: Vin De Pays d'Oc
Quality Designation: VDP
Grape Varietals: Grenache, Syrah, Mourvèdre
Vintage: 2021
Product Type: Wine
Wine Style: Fuller Body Red
ABV:  13.5%
Pack/Size: 12/750 ml
Container Type: Dark Green Burgundy-style bottle
Closure Style: Stelvin closure
ORDER 12 BOTTLES; DISCOUNT TABULATES AUTOMATICALLY TO $6.60/BTL.
If you live within Massachusetts but reside outside our local delivery area, please contact Bin Ends at 781-353-4510 to arrange for FedEX delivery of any wines featured online.
Due to Massachusetts state liquor laws Bin Ends is not permitted to ship beer or spirits via FedEX nor are we allowed to ship any products out of state.

Your transaction and billing will be handled by our staff to ensure accurate delivery.