Ca' dei Frati Lugana I Frati Lombardy, Italy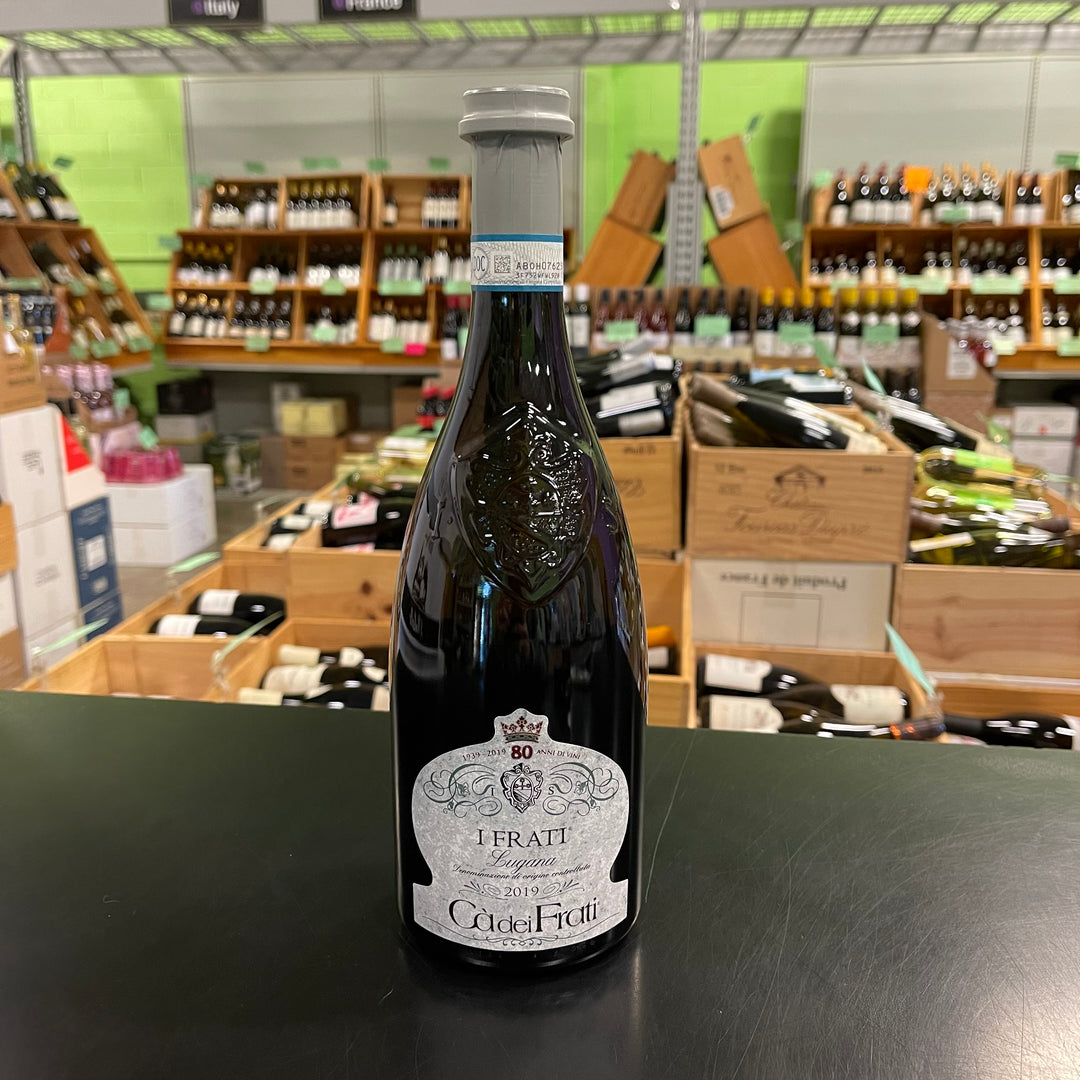 BIN ENDS SIX-PACK FEATURE:
$88.20 FOR 6/750 ML BTLS SAVE 30% COMPARE @ $126.
ORDER 6+ BOTTLES; DISCOUNT TABULATES AUTOMATICALLY TO $14.70/BTL.

PRODUCT OVERVIEW/REVIEW:
Lugana is a small appellation that straddles the larger regions of Lombardy and the Veneto located on the southern banks of Lake Garda and is dedicated solely to the production of white wines made from Turbiana, otherwise known as Trebbiano di Lugana and discovered to be genetically linked to Verdicchio. 

Ca' dei Frati was founded in 1939 when Felice Dal Cero settled on the Lombardy side of the Lugana appellation. It's called Ca' dei Frati or "friar house," because it was once owned by monks who grew grapes there. Soil types play a fundamental role in crafting Ca' dei Frati's fresh, fruit- and mineral-driven wines. Lake Garda was created during the Eocene era, some 35 million years ago, by a melting glacier. As the melting ice flowed south from what we now call the Italian Alps, it also brought glacial deposits. Today, these rocky and pebbly "morainic" soils are ideal for the production of fine wine. Because the roots of the vines have to work harder to find the water table in the well-drained soils, their fruit production becomes more vigorous. As a result, the grapes are richer in aroma and flavor, with more complexity and depth.*

Today's wine is considered a crown jewel of the Ca'dei Frati portfolio. Crafted from 100% Turbiana, it is fermented and aged in stainless steel on the lees for 6 months before bottling. It is bright and fresh in its youth, with a floral nose and flavors of stone and citrus fruits on a mid-weight palate undercut by refreshing acidity. As it ages it will become richer, more full-bodied, and weighty with riper, honeyed fruit characters. 


PRODUCT DETAILS:
Producer Name: Ca' dei Frati
Old/New World: Old World
Country of Origin: Italy
Region: Lombardy
Sub-Region: Lugana
Appellation: Lugana
Quality Designation: DOC
Grape Varietals: Turbiana
Vintage: 2021
Product Type: Wine
Wine Style: Medium Body White
Winemaker: Gian Frand Dal Cero
ABV: 13%
Pack/Size: 12/750 ml
Container Type: Dark Green Glass Custom Bottle
Closure Style: Natural Cork
*winey notes
ORDER 6+ BOTTLES; DISCOUNT TABULATES AUTOMATICALLY TO $14.00/BTL.

If you live within Massachusetts but reside outside our local delivery area, please contact Bin Ends at 781-353-4510 to arrange for FedEX delivery of any wines featured online.
Due to Massachusetts state liquor laws Bin Ends is not permitted to ship beer or spirits via FedEX nor are we allowed to ship any products out of state.

Your transaction and billing will be handled by our staff to ensure accurate delivery.