Giacomo Borgogno "No Name" Langhe Nebbiolo Piedmont, Italy 2018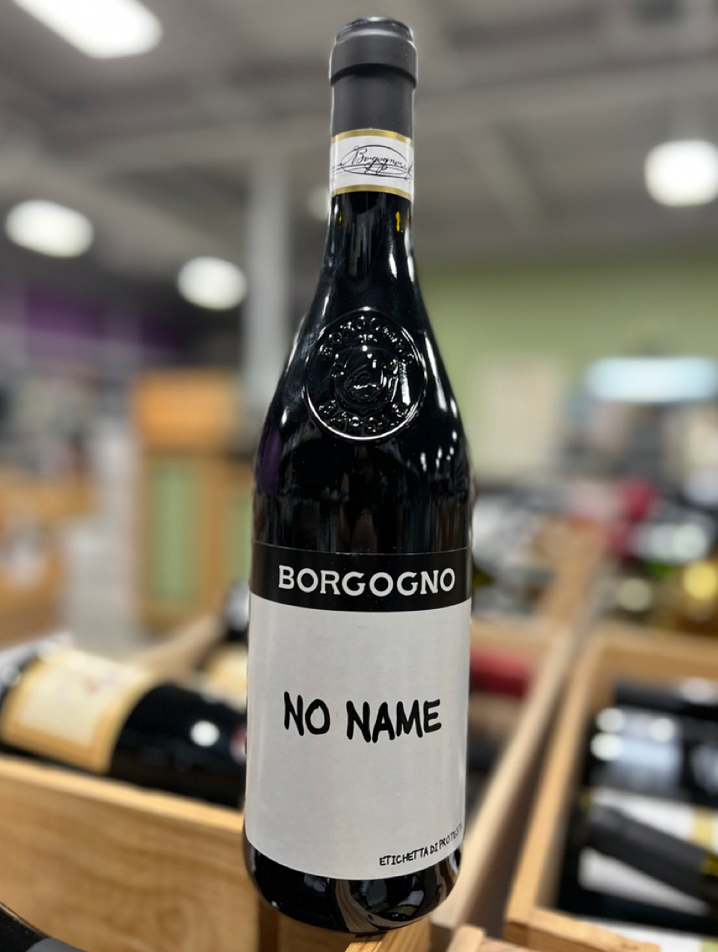 BIN ENDS BUY THE PAIR FEATURE:
$73.32 FOR 2/750 ML BTLS SAVE 33% COMPARE@ $110.
ORDER TWO BOTTLES; DISCOUNT TABULATES AUTOMATICALLY TO $36.66/BTL.

PRODUCT OVERVIEW:
Owner and caretaker of this centuries-old winery since 2008, Andrea elevated its production by converting to organic farming and returning to old-school, non-interventionist practices in order to produce more authentic wines. Reverence for terroir and respect for tradition became the guiding principles that helped him to craft world-renowned wines, especially Barolos.

Andrea got quite the surprise in 2008 when one of his Barolo cuvées became declassified to Langhe status by the Barolo DOCG tasting commission. Very happy with the vintage, he coined the moniker "No Name" for the wine in protest. What happened next shifted his perspective regarding wine names. To quote Andrea: "Still hoping to get the green light, we submitted a second sample. Lo and behold, the second sample-which was the exact same wine as the first-was approved! We chalked it up to the byzantine world of wine regulations in Italy and Europe. We were determined nonetheless to share the "unapproved" wine with the world. The moniker stuck...that's when we realized it's not the name that makes wine but the wine that makes the name!" The 2018 "No Name" Lange Nebbiolo is a chance to savor Barolo quality wine at a more reasonable price.
Fermented in concrete tanks and aged in Slavonian oak casks for 2 years, the 2018 "No Name" is indeed classic (Barolo) Langhe Nebbiolo. Ruby red color with purple highlights, it has ethereal aromas of dusty cherries, violets, and leather. The palate is medium-to-full-bodied, with flavors of brambly red cherries and raspberries entwined with accents of savory herbs, white pepper, baking spice, and tobacco. Sturdy tannins give the wine structure without detracting from its smooth texture. 

PRODUCT DETAILS:
Producer Name: Giacomo Borgogno
Old/New World: Old World
Country of Origin: Italy
Region: Piedmont

Appellation: Langhe
Quality Designation: DOCG
Grape Varietals: Nebbiolo
Vintage: 2018
Product Type: Wine
Wine Style: Medium Body Red
ABV: 14%
Pack/Size: 12/750 ml
Container Type: Green Glass Burgundy Bottle
Closure Style: Cork
ORDER TWO BOTTLES; DISCOUNT TABULATES AUTOMATICALLY TO $36.66/BTL.
If you live within Massachusetts but reside outside our local delivery area, please contact Bin Ends at 781-353-4510 to arrange for FedEX delivery of any wines featured online.
Due to Massachusetts state liquor laws Bin Ends is not permitted to ship beer or spirits via FedEX nor are we allowed to ship any products out of state.

Your transaction and billing will be handled by our staff to ensure accurate delivery.