Josef & Philipp Brundlmayer Zweigelt Rosé Grafenegg, Kremstal, Austria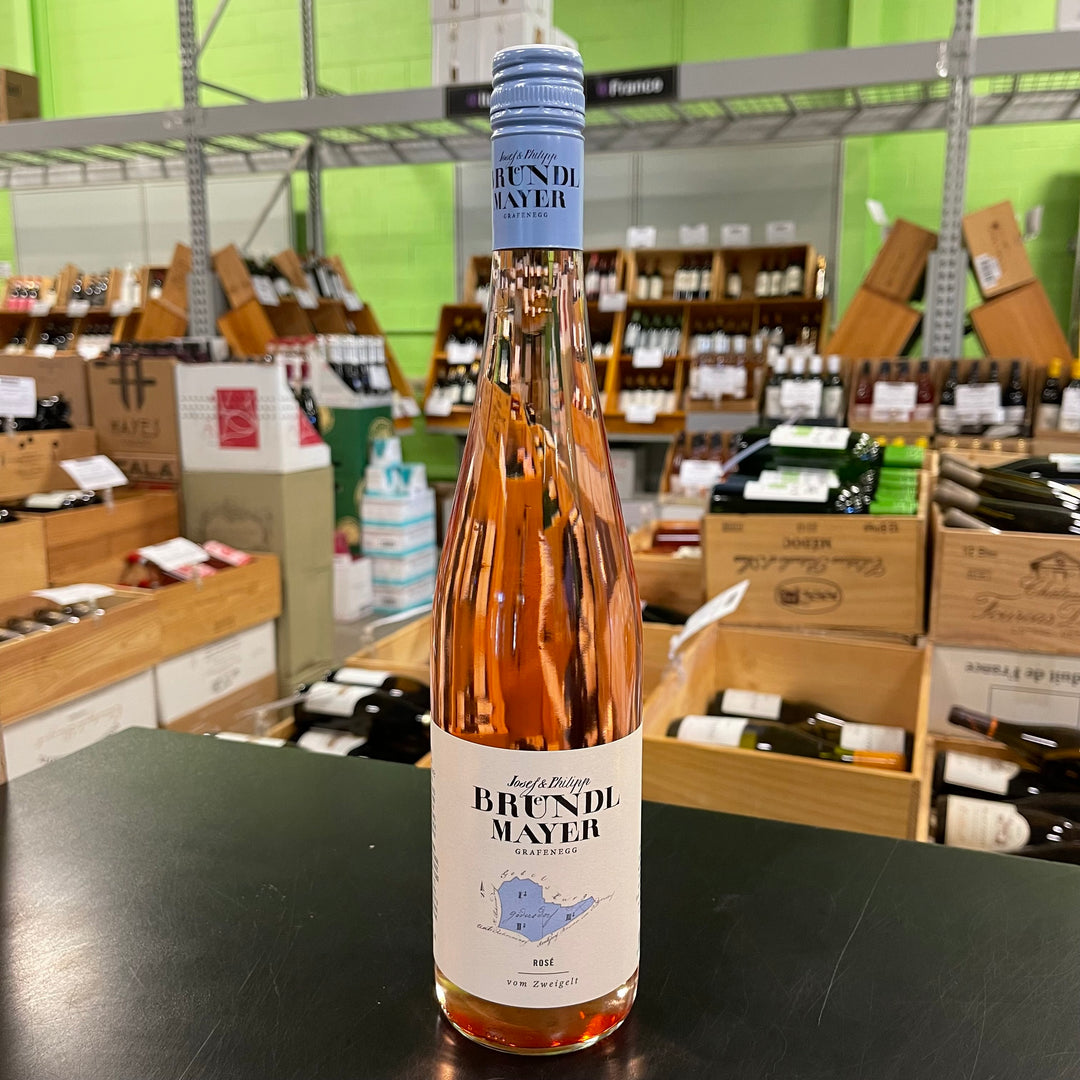 BIN ENDS SIX-PACK FEATURE:
$67.20 FOR 6/750 ML BTLS SAVE 30% COMPARE @ $96.
ORDER 6 BOTTLES; DISCOUNT TABULATES AUTOMATICALLY TO $11.20/BTL.
PRODUCT OVERVIEW:
The story of a family-owned company often starts with an inheritance. But in the case of Josef & Philipp Brundlmayer, the legacy was not just a piece of land, but a passion. There can be no better foundation for a generation-spanning business than that!*

Today's offer is a charming Austrian rosé made from the native zweigelt varietal sourced from vineyards around Grafenegg along the Blue Danube, one of many delightful wine villages threaded along the river like a string of pearls. Father Josef & son Philipp of the Brundlmayer family winery work together to craft excellent classic Austrian varietal wines. Although Philipp has taken the reins of the family's estate, his father still plays a vital role, which comes to no surprise as he knows every single vine in their 18 hectares of vineyards. Josef started the winery in 1980 with not much more than his hands and a passion for wine, not even having a wine cellar at the time. He planted many of these vines himself, while others he cosseted and nursed back to health in order to make them fulfill his intentions: namely to craft terroir-driven wines which tell about their origins and express varietal typicity.*

The 2022 Josef & Philipp Brundlmayer Zweigelt Rosé is a tasty display of terroir-driven perfection. The cooler climate gives the grapes the perfect balance between fresh fruit and racy acidity that is the hallmark of great rosé. Wild cherries and fresh raspberries grace the nose and palate. Accents of wet stone, spice, and fine herbs add complexity. The finish is vibrant and long.

PRODUCT DETAILS:
Producer Name: Josef & Philipp Brundlmayer
Old/New World: Old World
Country of Origin: Austria
Region: Niederosterriech (Lower Austria in name- yet actually the top part of the country in the NE corner).
Appellation: Qualitatswein
Quality Designation: DAC
Grape Varietals: Zweigelt
Vintage: 2020
Product Type: Wine 
Wine Style: Rosé
Viticultural Features: vineyards are all chemical free and fully sustainably farmed
Winemaking Techniques: fermented in stainless steel tank, matured on fine lees
Winemaker: Josef & Philipp Brundlmayer
ABV: 11.5%
Pack/Size: 12/750
Container Type: clear glass hock-style bottle
Closure Style: Stelvin
*from winery/importer notes

ORDER 6 BOTTLES; DISCOUNT TABULATES AUTOMATICALLY TO $11.20/BTL.

If you live within Massachusetts but reside outside our local delivery area, please contact Bin Ends at 781-353-4510 to arrange for FedEX delivery of any wines featured online.
Due to Massachusetts state liquor laws Bin Ends is not permitted to ship beer or spirits via FedEX nor are we allowed to ship any products out of state.

Your transaction and billing will be handled by our staff to ensure accurate delivery.