Morisfarms Morellino di Scansano Tuscany, Italy
SKU:

MorisfarmsMorellinoScansano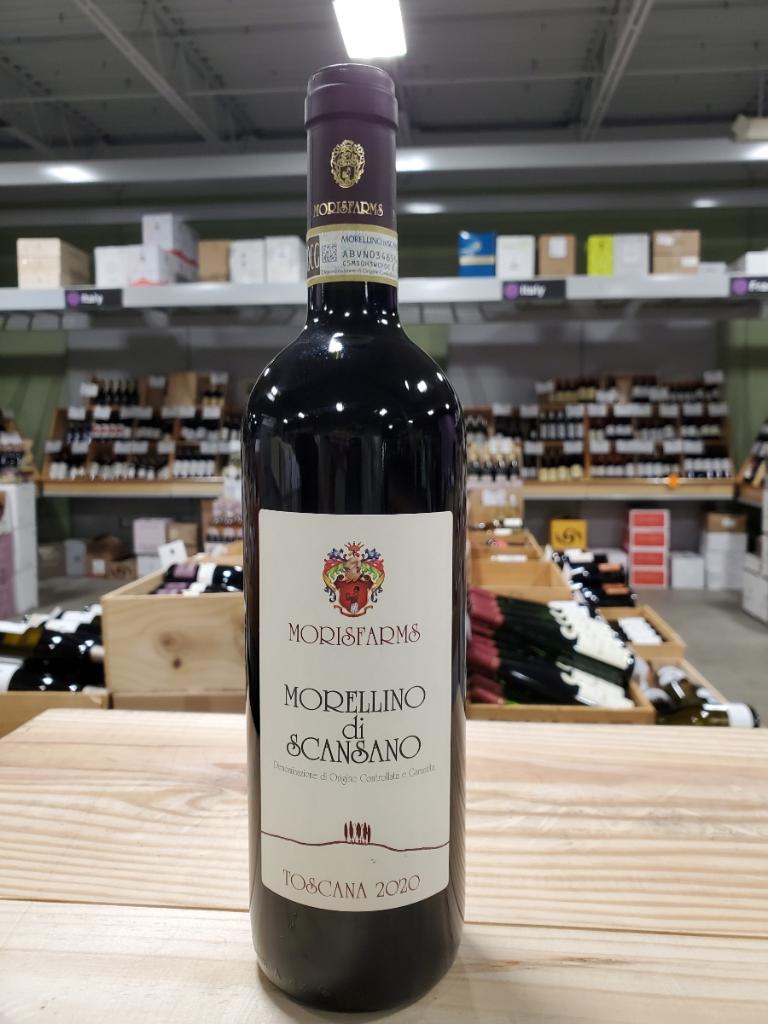 BIN ENDS SIX-PACK FEATURE:
$80 FOR 6/750 ML BTLS SAVE 33% COMPARE@ $120.
ORDER 6+ BOTTLES; DISCOUNT TABULATES AUTOMATICALLY TO $13.33/BTL.
PRODUCT OVERVIEW:
Morellino di Scansano is located in Maremma in southern coastal Tuscany, on the Tyrrhenian Sea. Maremma benefits from hot, dry daytime weather balanced out by sea breezes that elicit significant swings in day-to-night temperatures. This variation enables grapes to develop an ideal balance between ripe fruit characters and acidity. The region gained notoriety with the creation of Super Tuscan wines in nearby Bolgheri, but wines with the Morellino di Scansano designation prove that the region offers so much more.

Morellino di Scansano first achieved DOC status in 1978. After years of DOC status and many high-quality vintages to its name, the appellation earned DOCG status in 2007.

Two hundred years ago the Moris family moved from their native Spain to Italy's Maremma, the wild West of Tuscany. Today they own and work two farms, Fattoria Poggetti near Massa Maritima and Poggio La Mozza in Morellino di Scansano, the source of today's offer. Poggetti has clay-based soil that produces hearty wines, while Le Mozzine's sandy soil yields more elegant juice.
Under Adolfo Parentini (married to a Moris), the estate has become a leader in fine wine production, introducing green harvests and controlled barrique aging. Maremma wines differ from those of its northern neighbors due to the ripeness levels that can be achieved in southern Tuscany, resulting in rounder and more savory styles. Regulations stipulate that at least 85 percent of the wines must be made from Sangiovese- known as Morellino here - with the rest coming from permitted French noble varietals.*
Decanter Magazine: Rated 93 Points
"This delicious mid-weight annata from Sangiovese topped up with a little Merlot and Syrah is a beautifully made everyday wine with dark chocolate, plum, and Mediterranean scrub scents and a perfectly balanced tannic weave on the palate. Extraordinarily good value." RD (10/22)
PRODUCT DETAILS:
Name: Morisfarms
Old/New World: Old World
Country of Origin: Italy
Region: Tuscany
Sub-Region: Maremma
Appellation: Morellino di Scansano
Quality Designation: DOCG
Grape Varietals: Sangiovese 90% with 10% blended Merlot and Syrah
Vintage: 2020
Product Type: Wine
Wine Style: Medium Body Red
Winemaker: Adolfo Parentini
Winemaking Techniques: Fermentation in temperature-controlled stainless steel tanks. Pumping over twice a day for a period of 15 days maceration. It is bottled after a barrel passage of 4 months.
ABV: 13%
Pack/Size: 12/750
Container Type: Bordeaux-style bottle
Closure Style: cork
*adapted from winery notes
ORDER 6+ BOTTLES; DISCOUNT TABULATES AUTOMATICALLY TO $13.33/BTL.
If you live within Massachusetts but reside outside our local delivery area, please contact Bin Ends at 781-353-4510 to arrange for FedEX delivery of any wines featured online.
Due to Massachusetts state liquor laws Bin Ends is not permitted to ship beer or spirits via FedEX nor are we allowed to ship any products out of state.

Your transaction and billing will be handled by our staff to ensure accurate delivery.